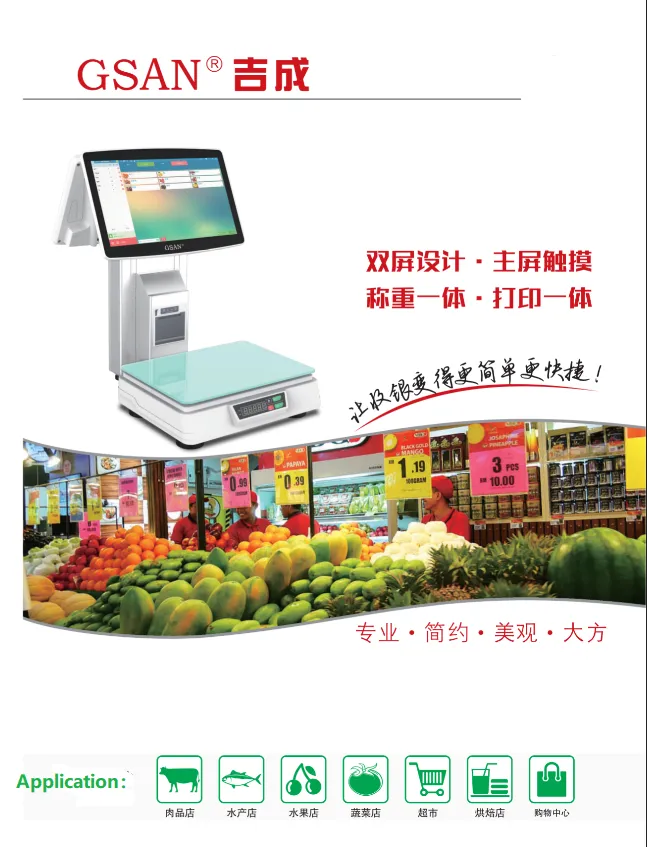 PC-G3 Touch POS Weighing Scale
Intelligent cashier scale, Supporting Windows Operating system
All in One : Double screen, Main screen capacitive touch, Weighing scale and thermal printer
The products are suitable for: retail, cooked food, fruit shops, vegetable shops, agricultural and sideline products shops, aquatic shops, dry goods stores, etc. PC-G3 electronic cash register said to use the current popular ultra-thin industrial design style, said the main body is all aluminum alloy body, It can be equipped with a 15.6-inch high-resolution LCD screen and a tablet-like capacitive screen, and an integrated 80MM wide receipt thermal printer can easily meet various weighing needs. The most beautifully designed large weighing platform is more fashional. The weighing that meets the maximum weight, and improve the weighing efficiency of the cashier and save effort and effort.
Slim and stylish: 15.6-inch 1366 * 768 resolution LCD screen with ten-point capacitive touch, ultra-thin, practical and elegant . It can support dual-screen design, 11.6-inch customer display to meet customer visual needs.
Rugged and durable: The design of the super-large and ultra-thin platform, the tempered glass material is superior, can withstand 30KG weighing, to ensure accurate weighing, aluminum alloy and tempered glass material to ensure waterproof and corrosion-resistant.